Since 1998, World Horizons has been a trusted provider of quality educational travel opportunities for schools throughout Australia. We offer immersive journeys that combine adventure, cultural exploration, and enriching learning experiences. From trekking in the majestic Himalayas to exploring ancient temples and vibrant markets, our trips provide a profound understanding of diverse cultures and foster personal growth.
With World Horizons, schools can count on unforgettable educational adventures that create lifelong memories.
To provide an opportunity for young travelers to develop a sense of intercultural understanding and respect is a critical part of our programs. In doing so, we hope it will enable them to see the world with more open and inquiring minds.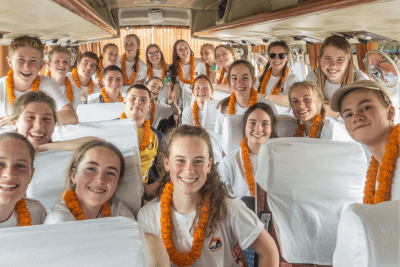 As a long-standing educational tour operator, World Horizons offers a range of advantages.
Frequently Asked Questions
"I am about to take my fifth trip with World Horizons and simply cannot choose the "best" journey taken so far! Every experience has been truly memorable and special in its own right. I love so many aspects of these trips: Love the immersion in local culture. Love the element of adventure. Love the seamless organisation, yet allowance for flexibility. Love the opportunity to donate directly to worthy causes. Love to see our students gain a first-hand appreciation of global issues. I have nothing but praise for World Horizons and the opportunities the company offers.
"Nepal was an amazing fifteen day adventure. The group was immediately immersed into a country that was rich in culture, colour and a real sense of community spirit. Life in Nepal for the Cranbrook travellers was busy, challenging and immensely energetic. It was a powerful and meaningful life-changing experience with rewarding outcomes for all. Thanks to World Horizons for their invaluable support, unsurpassed organisation and management of the whole educational trip.
"World Horizons did an impeccable job in organizing and managing the trip in what can clearly be at times a challenging environment for keeping things running smoothly. I know Cranbrook has a long association with World Horizons and from participating on this trip I can see why."
"This adventure far exceeded my expectations and I am already planning a return trip. The group had a marvelous time without exception and we have all come back wiser and grateful for the amazing country we live in. Our appreciation extends largely to World Horizons & Matthew Swait for his exceptional leadership and support. Matthew & the team of World Horizons are superbly organised for even the worst case scenario typical of the sub-continent. Matthew also has a great sense of humour and made everyone feel at ease both with his friendly nature and his confidence in all situations."
Nepal - Farmhouse Progamme