Since 1998, World Horizons has been at the forefront of offering outstanding travel experiences. Our approach is simple: we focus on a small number of destinations and tours, allowing us to become experts in those areas. By doing so, we can better understand and fulfill the needs and desires of our valued travelers and the communities we collaborate with. Our ultimate goal is to provide unparalleled satisfaction and create unforgettable journeys for everyone involved.
At World Horizons, we take pride in being a leading innovator in the realm of educational travel. We try to inspire young travelers to broaden their horizons and develop essential life skills through immersive experiences that blend adventure, cultural engagement, and enriching learning opportunities. 
At the World Horizons farmhouse, you can relax in tranquil surroundings and savor authentic local cuisine. Embark on a distinctive cultural journey amidst breathtaking natural scenery. Immerse yourself in the stunning beauty of the Langtang region with a trek that traverses charming local schools, small Buddhist monasteries, and the lively rhythms of village life.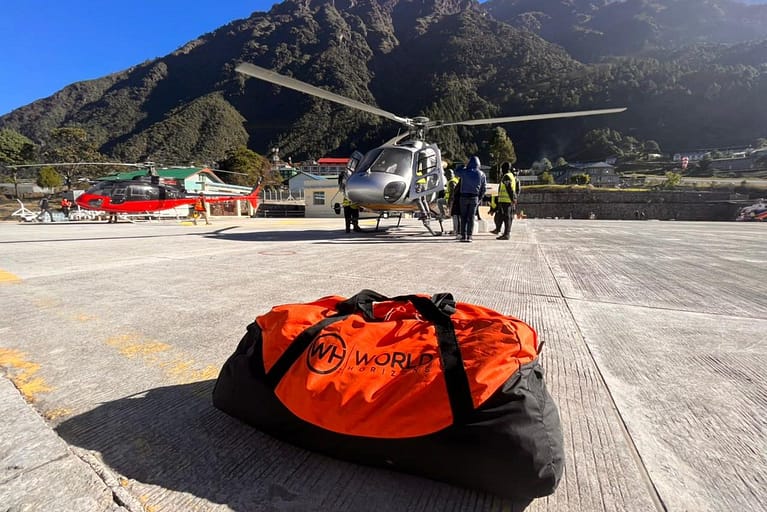 Embark on the ultimate trekking adventure with World Horizons and Everest Summit Lodges. Our exclusive package includes a private helicopter tour to witness the stunning Mt Everest up close, luxurious accommodations, and the most experienced guides and logistical support from our expert team in Nepal.
Experience a leisurely-paced E-Bike tour through enchanting cultural sites and attractions. Traverse stunning mountain passes and ridges under the towering peaks of the Himalayas, cross over ancient bridges, and pedal through lush forests steeped in history.
World Horizons has organized two unforgettable motorcycle trips for me in India. Each time, they have provided an incredible mix of fun, excitement, adventure, delicious food, great company, fascinating cultures, and stunning scenery. Their organizational skills were seamless yet flexible, and I cannot recommend them highly enough.
We would like to express our gratitude to World Horizons, our fantastic guide Jigme, our incredible porters, and all those associated with World Horizons for providing us with such a remarkable experience.
I am about to take my fifth trip with World Horizons and simply cannot choose the "best" journey taken so far! Every experience has been truly memorable and special in its own right. I have nothing but praise for World Horizons and the opportunities the company offers.
"I laughed, I cried and I experienced something I will never again experience with my son, a truly special once in a lifetime trip. We are believers that opportunities come up for a reason and I am so glad we took this one up!"