Bhutan by Enfield – Your Guides & Other Info
---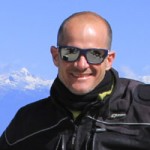 Matthew Swait started riding motorcycles at the age of 12 on a battered old Bridgestone 90. A few motorcycles and years later, Matthew runs all our motorcycle tours in India and Bhutan. As someone who has been travelling in this part of the world since 1986, he enjoys nothing more than sharing the joys of traveling by motorcycle through this truly amazing part of the world. And through this experience and enthusiasm will ensure your trip with us will be one of the most memorable and enjoyable experiences of your life.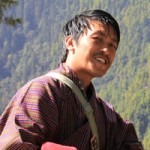 Yonten is your specialist Bhutanese guide on the trip, and along with Matthew will be there to make your journey as comfortable and hassle free as possible. Along with our motorcycle mechanic, Yonten also doubles up as a backup rider in the event anyone needs a break. Yonten is also your private guide for many of the Dzongs and Monasteries that we will visit on tour. Yonten is an incredibly friendly guy who brings an infectious joy to all our tours in Bhutan. We know you will enjoy his company!
The Bikes
Our single cylinder 500cc Enfields are all setup with the rear brake on the right and gear shift on the left. What you would be used to on any modern motorcycle. Enfields have a simple old fashion design with plenty of low down power at low revs, and so are a very easy bike to ride. They are the perfect machine for the type of trips we run in Bhutan and India. Also keep in mind that at all times our mechanic will be there to make sure your bike is tuned to perfection for each days riding and fix anything that might occur during the trip. The idea is for you to be able to kick back and relax and to let our staff look after all the hassles and logistics associated with travel in this remote part of the world. And if you don't feel like riding on any particular day, remember that either the mechanic or Yonten can ride your bike to give your a break.
Driving License and Travel Insurance
To join as either as a rider or pillion you must have travel insurance that covers for motorcycles. So check carefully before signing up that your policy will include medical evacuation in the unlikely event of an accident. World Horizons can organise Travel Insurance for you that covers for motorcycles. As a rider you'll also need an international driving permit and a current motorcycle license.
Skill Level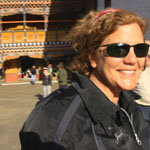 Reasonably good bike riding skills are required for this trip. Road conditions will vary somewhat but on the whole roads in Bhutan are very good compared to other parts of the Himalaya. There is also very little traffic and plenty of bends! It really is a riders paradise! And look if you're not that experienced but would like to give it a go take a look at Nicola Wassell's story. Before joining the trip in 2013 Nicola couldn't ride but wanted to join her husband Mike as a rider. So she enrolled in a motorcycle riding course called Q-Ride and 3 months later she's in Bhutan on a motorcycle. When Nicola didn't feel like riding, she simply gave the bike to Yonten or the mechanic to ride. This took all the pressure off having to ride for the whole trip. So if you're not sure of your ability give our office a call and have a chat to Matthew – 02 4787 5960.
Pillions & Non Riders Welcome
At any time pillions are welcome to ride in our comfortable 8 seater Toyota Hiace. So don't be concerned about spending the whole trip on the back of a bike if that's not your thing. We also welcome friends and family members of riders who wish to join the trip and ride in the van.
Getting There
You'll need to arrive in Calcutta on the 5th of Nov 2016 to join the trip. Singapore Airlines offer good connections through to Calcutta as does Thai Airways. When leaving Bhutan you now have a choice of two airlines. Either the national carrier Druk Air or the new Bhutan Airlines. Druk Air fly regularly from Paro, Bhutan's only international airport, to Bangkok, Delhi, Kolkata, Kathmandu and Singapore, while Bhutan Airlines have slightly few options. Either book through your travel agent or online direct with Druk Air or Bhutan Airlines. The tour finishes in Paro with two nights at the fabulous Naksel Resort. If you would like extra nights after the trip let us know and we will book them for you.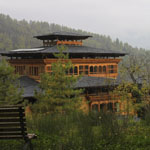 Accommodation
From the fabulous Naksel Resort in Paro to small family run guesthouses, the accommodation on this trip is a varied as the countryside itself. What World Horizons try and do is choose places that have a friendly and intimate feel, rather than large impersonal hotels. We're sure you will enjoy our choice of accommodation on this trip, positioned in some of the most enchanting locations in the Himalaya.
Phones & WiFi
Your mobile phone will only work in Bhutan if you are with Telstra and you have activated your phone for global roaming. You can however buy a local SIM cards along the way for use in Bhutan. You'll need an old style phone though that takes a regular SIM Card. SIM cards for iPhones & other smartphones are not available. Some of the hotels we'll be staying in will have free WiFi.
Money
The local currency of Bhutan is the Ngultrum and is pegged to the Indian Rupee which is freely accepted throughout the county. ATM's are now available in Paro and Thimphu. Will they always work? Well that's another issue! We therefore suggest you travel with $US as well. Good quality bills without any tears. Some of the hotels you'll be staying in will accept your credit cards, but most of the time $US cash is more convenient. Keep in mind though that you shouldn't need too much extra cash as all your meals, accommodation, drinking water and so forth is covered in the cost of your trip. It's just for any extras like drinks at the hotels and souvenirs that you'll need money for.
Visa's
Your visa for Bhutan is included in the tour and will be processed from our office in Thimphu. All we need is a good quality scan of your passport emailed to us along with your booking form. Once processed, 2 weeks before your departure, we will then email you a copy which you will take with you through immigration on arrival in Paro.
You will also need a tourist visa for India. This you will have to apply for yourself online at VFS. As this is probably one of the most complicated sites ever built, we suggest you start this process well before your travel. DO NOT LEAVE IT TOO LATE! Any questions during the process please do contact our office.
It's An Adventure!
Please be aware that this is an adventure in every sense of the word, and with such journeys we may have to alter the itinerary in accordance with whatever presents itself – be it the weather, politics, or road conditions at the time. So please think carefully before you sign up.
How do I Book?
To sign onto the trip just email us for a booking form. Once received we'll send you a letter of confirmation, a gear list, medical form, optional insurance cover, and all the other info you'll need to get you to the start in Paro.
If you have any questions or want a booking form – Contact Us.